Add powerful video handling to your DAM system
Cumulus allows you to ingest high-resolution video files, but lacks support for handling many formats and large files in a way that's most useful for users and administrators. Video Module provides features that make viewing, transcoding, downloading and commenting of videos within your DAM much easier and with more flexibility.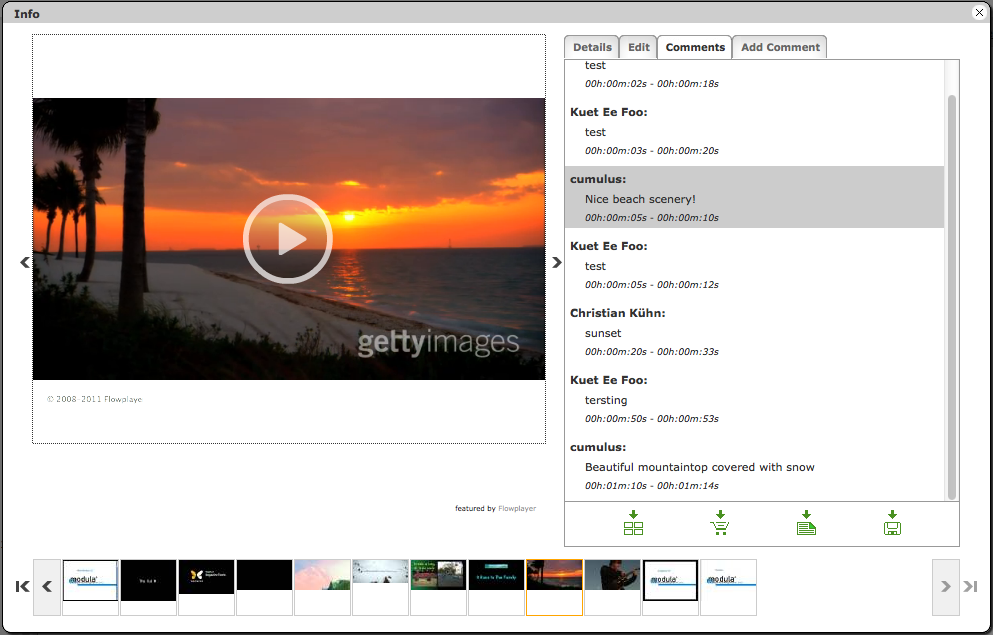 Streaming Previews
Without Video Module, to view large video files managed in your DAM system, users need to download the entire files in order to preview them. And the files needs to viewed in a video player outside of your DAM system.
Video Module allows users to to preview videos directly within the DAM. This means that users can quickly see the contents of the video without having to download the entire file, saving time, hassle and bandwidth.
Download in Different Formats
New in Video Module 2.0, you can make your videos available for download in a variety of formats. Select from a wide range of available formats. All videos ingested are then made available for download in the formats you choose. The videos are transcoded at the time of ingest so users don't have to wait for the conversion to take place when they download the file. And you can control which users can access which videos in which format through the permissions settings in your DAM.
Commenting
Video Module allows user to add comments to videos as they play. The comments are searchable, so specific sections of the video can be found by searching on the comments. Uses include highlighting parts of the video that are of interest, noting which parts of a video were used in specific projects. and adding feedback and instructions during the creative process.
Contact us to learn more about how Video Module can help you more effectively manage and distribute videos.