Monetize your media assets
Offer your files easily and safely for paid downloads.
The e-Commerce Add-On is designed for maximum flexibility. Prices can be arranged by quantity, size, type, or other factors, and calculated accordingly.
The eCommerce Add-On is available as an extension to Web Module.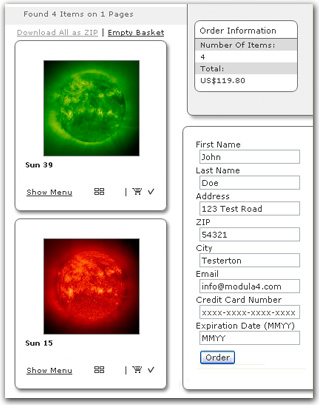 The E-commerce Add-On allows you to integrate with a variety of credit and debit card payment processors. Your customers' credit and debit cards are verified directly over the Internet, before payments are processed. The current version supports VeriSign, Authorize.net and Saferpay. The e-Commerce add-on can also be set up to accept alternative payment methods, such as automatic bank account debits.
The e-Commerce add-on allows you to pull information from different databases, such as an LDAP directory, where customer data might already be stored. Each transaction is confirmed to both customer and seller with an automated e-mail notification.
Contact us to learn more about the e-Commerce Add-On .