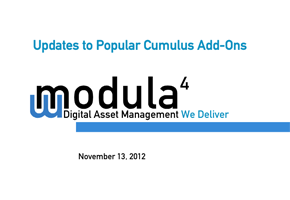 Products from Modula4 make Canto's Cumulus digital asset management system even more powerful and versatile. In this webinar Modula4 demonstrate significant updates to products that enhance Cumulus including the Video Module, Watermark Module and ImageSearch Add-on.
See how the latest version of the Video Module lets you offer your videos as downloads in a variety of formats and resolutions. There is also be a demonstration of the new Watermark Manager interface, which makes Modula4's Watermark Module even easier to use. And learn how ImageSearch, Modula4's tool for visual searching, now allows you to base your search on multiple images and adjust the sensitivity to precisely control the search results.
You can download a copy of the presentation here.