The Best Cumulus Replacement:
Ask us about special discounts and migration assistance when switching from Cumulus to NetX
Full-Featured DAM Solution for Cloud or On-Premise

NetX, a leading digital asset management (DAM) platform, was built to meet all your DAM needs. It lets you find, download and share your valuable digital assets. Granular permissions ensure that you have control over the assets each user can see and access. NetX integrates with virtually any other system and lets you seamlessly sync work-in-progress projects or other custom workflows. It's based on open standards, and all NetX features are available as either a cloud service or on-premise system.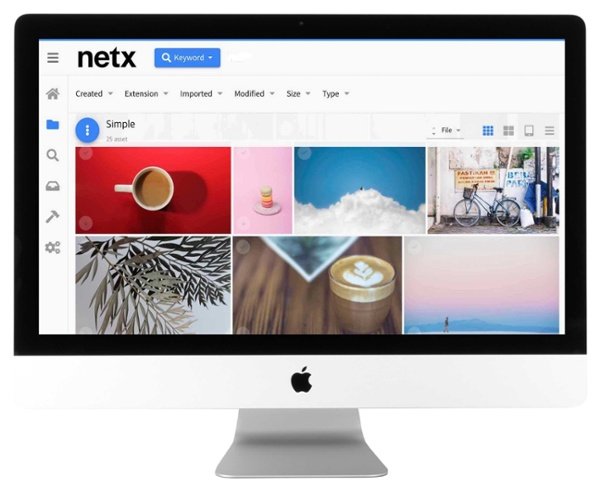 Intuitive User Interface
NetX deployments benefit from a user experience that requires minimal training. New users tend to adopt the basic functions and workflow options quickly. They are continually focused on user interaction and ease-of-use. The essence of this methodology is to improve the user experience by making application interfaces more intuitive, learnable, and consistent. As a rule of thumb, NetX adheres to the adage, "the user interface is not done when there's nothing left to add, it is done when there is nothing left to take away."
Both the "power user" interface and the self-service "brand portal" are not only feature a modern, intuitive design, but are both based on HTML5. This allows NetX to offer fast performance, responsive design and makes the interfaces easy to customize.
Advanced Search Engine
The NetX architecture features lightning fast search, automatic indexing, saved searches, granular targeting, faceted search (search within results), and a highly optimized search engine core. With a highly optimized index for embedded and external asset data, the search engine is embedded directly within the application. Administrators have control over a range of parameters for managing search to fit the needs of any organization.
Robust Video Support
For rich media formats such as video, NetX allows you to "see" and interact with your asset file from within the user experience, generating keyframe images, and "proxy" videos for previews and playbacks. NetX now supports the Open Source Media Framework video player; so video playback is now available on just about any video-capable device, including tablets and mobile.
Sharing
NetX offers many options for automated, rule-based, and ad hoc distribution of assets. For enterprise teams, DAM means publishing, collaborating, sharing and syndicating … not simply the "Cold Storage" of files. With a full Web Services API, assets stored in the NetX platform can go literally anywhere, controlled by your own permissions, triggers and parameters as necessary.
In addition, NetX offers its new brand portal based on its "X7" platform. X7 is a framework which will allow any NetX client to create their own theme for the application, using a combination of HTML, CSS and Javascript. The framework provides a range of customization options, from simple style modifications, to a fully customized interface.
Extensible Framework
NetX has been built from the ground up with an open and scalable architecture. System integration, outbound publishing, security, data management and web services are common requirements with every NetX deployment, whether Saas or On-Premise. A Services Oriented Architecture (SOA) enables integration with just about any modern application — E-commerce, CMS, ERP, CRM, production databases, Adobe Creative Suite — you name it, in most cases NetX can integrate with it via a full Web Services API.
Flexible Deployment Options
NetX is available in a wide variety of deployment options including on-premise, SaaS (Software-as-a-Service, also known as Cloud) hosted by NetX or SaaS hosted by a third-party (i.e. Amazon, Rackspace). It can also be deployed in a hybrid configuration with an on-premise system for managing work-in-progress assets, and a cloud system for quickly delivering assets anywhere in the world.
Contact us to learn more about NetX.