Easily Publish to iPad, Kindle Fire and Android Devices
Adobe® Digital Publishing Suite is a complete solution for individual designers, traditional media publishers, ad agencies, and companies of all sizes that want to create, distribute, monetize, and optimize engaging content and publications for tablet devices.
The Adobe Digital Publishing Suite is a hosted solution that tightly integrates with Adobe InDesign and Adobe Creative Suite software, empowering designers with industry‐standard page layout capabilities for creating highly designed, engaging digital content that includes a new class of interactivity. Digital Publishing Suite provides a robust end-to-end publishing solution for creation, distribution, commercialization and analysis of high-value content including traditional magazines and newspapers as well as corporate publications including magazines, annual reports, product guides and retail catalogs  consumed on desktops and tablets.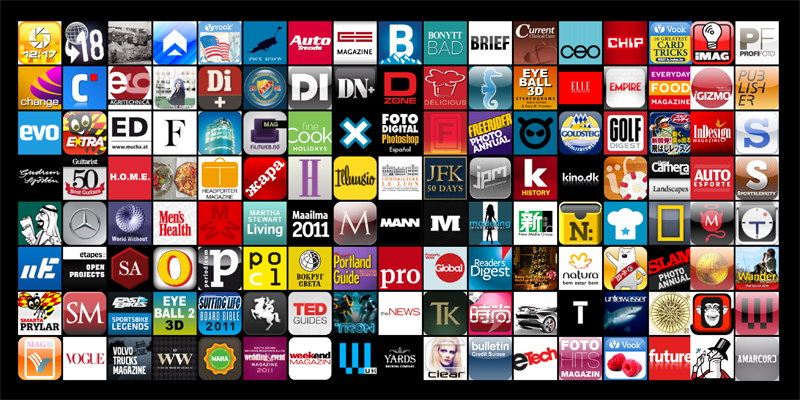 Content Published with Digital Publishing Suite: Magazines, Newspapers & Business Publications
Modula4 offers 3 editions of Digital Publishing Suite:
Professional Edition: Accelerate tablet publishing with a turnkey offering
The Professional Edition is the off-the-shelf tablet digital publishing software solution for midsize traditional media companies, business publishers, and membership organizations. Rapidly create highly designed, immersive content and publish it across leading marketplaces and devices to drive growth through digital publishing.
Enterprise Edition: Transform your business with a custom tablet publishing solution
The Enterprise Edition offers a customizable solution for enterprise publishers, global corporations, and worldwide ad agencies that want to transform their digital business through lucrative new revenue streams, deeper customer relationships, and cost-efficient tablet publishing.
Agency Edition: Expand your offerings by creating tablet apps for your clients
The Agency Edition enables advertising and design agencies to easily create customized tablet apps for clients for public or private distribution.
Modula4 is an authorized Adobe Digital Publishing Suite Partner. You can request more information here.